On September 24, 2023, the 10th day of the eighth month of the lunar calendar in the year of Gui Mao, coinciding with the auspicious day of the birth of the Northern Emperor Great Deity, in the first sacred place, the eighth cave heaven, Jurong Maoshan, in front of the statue of Laozi, an altar was set up, and a prayer ceremony was held to inaugurate the 5th International Taoist Forum.
The International Taoist Forum is the largest and most influential international cultural exchange event in the Taoist community. This forum is hosted by the China Taoist Association and the China Religious Culture Exchange Association, organized by the Jiangsu Organizing Committee of the 5th International Taoist Forum, and co-organized by the Hong Kong Taoist Federation, the Macao Taoist Association, and the Taiwan Chinese Taoist Association. It is attended by over 500 representatives from the Taoist community, experts, scholars, and participants from 39 countries and regions.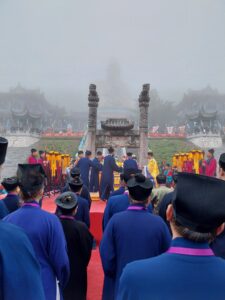 On the morning of the 24th, within the Maoshan Scenic Area in Zhenjiang City, fog enveloped the surroundings, and the bronze statue of Laozi appears and disappears in the mist and fog. The participants ascended the mountain for the prayer ceremony. Maoshan Taoism musicians played "Chao Tian Zi," and everyone took their positions. International Taoist representatives were neatly arranged on the stage, awaiting the commencement of the prayer ceremony.
The priests ascended the altar, imparted teachings based on Taoist principles, burned incense to pay homage to the deities, and prayed for the prosperity and well-being of the nation, as well as the happiness and success of all people. International Taoist representatives paid their respects to the ancestors by offering flowers in turn.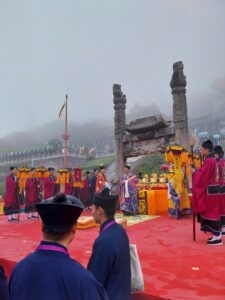 As the ceremony approached its conclusion, Master Li Guangfu, the President of the China Taoist Association, presented Biao Wen to conclude the prayer ceremony for the 5th International Taoist Forum, marking a perfect ending.
After the ceremony, the President of the German Taoist Association, Master Liu Chengyong, enjoyed pleasant exchanges with international Taoist friends.
---
Written by Fan Xin Rui