Information according to § 5 TMG
Operator and contact:
German Daoist Association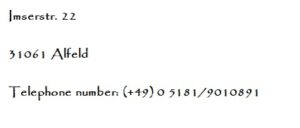 Images and graphics:
Information on the source for the images and graphic material used:
Dao-World International
Liability for content
The content of this website was created with the greatest possible care. However, we cannot guarantee that the content provided is complete, up-to-date or correct. According to §§ 8-10 TMG, we as a service provider are not obliged to monitor third-party information that has been transmitted or stored or to search for clues and circumstances that indicate the illegality of activities and information.
An obligation on our part to block the use of content within the framework of general laws remains unaffected. However, this liability only comes into question at the moment of becoming aware of a specific violation of rights. If we become aware of legal violations, we must remove the corresponding content immediately.
As a service provider, our liability for our own content is based on general laws.
Liability for links
This website contains links to third party websites – so-called external links. The content of these external links is beyond our control, so that we cannot accept any liability for such content.
The responsibility always lies with the respective operator of the external pages. At the time the external links were linked, no legal violations were apparent. We cannot reasonably be expected to continuously monitor third-party content for legal violations without specific information.
Should we become aware of legal violations, we will remove the corresponding external links immediately.
Copyright / ancillary copyright
German copyright and ancillary copyright law apply to the content published by the provider on this page. If the reproduction, processing, distribution or any other type of exploitation is outside of German copyright and ancillary copyright law, the written consent of the respective creator is required. Unauthorized copying or downloading of these pages is only permitted for private use, but not for commercial use. Unless we as the operator also act as the creator of the content, the copyrights of third parties will be observed. We always endeavor to mark such content as third-party content. In the event that, despite careful work on our part, you notice a copyright infringement, please notify us accordingly,
privacy
This website can be used regularly without providing personal data. Should such personal data be collected on this website, this is done in the form of voluntary data input by the user. The personal data will not be passed on to third parties unless the user has given their express consent.
If personal data is collected on our website, this data is always collected within the framework of the provisions of the data protection law of the Federal Republic of Germany. If personal data is collected, you can see the type, scope and purpose of the collection and use of personal data from this data protection declaration.
Please note that despite the greatest care, data transmission on the Internet is always associated with risks based on security gaps. The unrestricted protection of data is therefore impossible.
Data transfer
When you access our website, data is automatically transmitted from your browser to our web server. The subject of this transmission is anonymized access data without personal reference, such as date and time, browser type, amount and type of data accessed and your IP address. This data is stored separately from any other data collected when you use our website. These data cannot be used to identify a specific person. This data is only collected for logging user behavior and for statistical purposes. After a corresponding evaluation, the data will be deleted.
Cookies
We use so-called cookies on our website for quality assurance purposes and to expand the range of functions on our website. These are text files that are stored on the user's computer. Cookies can be used to determine the number of page visits. We only use this information to improve our website.
Inventory data
When establishing, structuring or changing a contractual relationship between you and us, we collect and use personal data from you, so-called inventory data, as necessary
As a rule, no information is passed on or information is given to third parties. By order of the competent authorities, we are required to provide information about personal data to the extent that it is necessary for purposes of criminal prosecution, to avert danger or to fulfill other legal tasks.
Usage data
If necessary, we collect and use so-called usage data from you. This is personal data that enables the use of our website and billing. In doing so, data is recorded that contains both the time criteria for using our offer and the scope of use and your identification features.
We would like to point out that we are permitted to generate usage profiles, ie compiled data on the course of visits to our pages, for advertising purposes, for market research purposes and to design our website. These usage profiles do not provide any information about your person and are not merged with any other data collected by us, so that personal identification cannot be made by merging different data. You have the right to object to such use of your data at any time.
right of providing information
We would like to point out that you have the right to request information from us about the data you have saved and, in the event that the data is incorrect, to have it blocked, deleted or corrected. Information can be provided both by telephone and electronically.
Changes to the privacy policy